The 2nd Annual Cleveland Playwrights Festival Comes to Waterloo Arts in November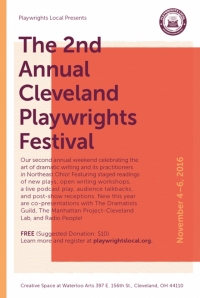 FOR IMMEDIATE RELEASE
PLAYWRIGHTS LOCAL ANNOUNCES
THE 2ND ANNUAL CLEVELAND PLAYWRIGHTS FESTIVAL
New plays, free workshops, and special events presented November 4 through 6 at Waterloo Arts
Cleveland, OH; September 29, 2016
Playwrights Local announces the 2nd Annual Cleveland Playwrights Festival, a weekend celebrating the art of dramatic writing and its practitioners in Northeast Ohio. Running November 4 through 6 at Waterloo Arts, this event features staged readings of new plays, workshops on special topics in writing, networking opportunities, audience talkbacks, and open receptions. All sessions are free, with a suggested donation of $10.
Playwrights with full-length works in this year's Cleveland Playwrights Festival include Lisa Beth Allen and David Hansen. Joining them are Luke Brett and Eric James Dahl, two young dramatists from Baldwin Wallace University with one-acts on the bill. On the afternoon of Saturday, November 5, open writing classes will be led by screenwriter Simone Barros and the podcasting duo of Justin Glanville and Angie Hayes. Additional events include a panel discussion with Stuart Hoffman, Amy Schwabauer, and other playwrights with works opening at area theaters in the 2016-2017 season.
"We're excited about collaborating with all of this year's playwrights, teachers, directors, and performers," says David Todd, Artistic Director of Playwrights Local. "However, we're also looking forward to the partnerships we've set up as well. By pairing with related groups we've met over our first year as a company, we hope to provide exposure for more artists and spotlight the depth of the playwriting scene in Northeast Ohio."
Partnered events in the 2nd Annual Cleveland Playwrights Festival include a program of short pieces hosted by the The Manhattan Project – Cleveland Lab. Also scheduled is a live performance of a serial play presented with Radio People Podcast: A Comedy Series. The Saturday workshops will be co-presented by the Ohio region of the Dramatists Guild, bringing together two of the market's main support groups for practitioners of this craft.
"The Cleveland Playwrights Festival is intended to promote playwrights, clearly, but it's also designed with audiences in mind," says Todd. "We have daily receptions and talkbacks that give attendees a chance to voice their opinions and interact with the artists." Receptions with refreshments will be held on Friday evening and on Saturday and Sunday afternoons.
The 2nd Annual Cleveland Playwrights Festival will be held at the Creative Space at Waterloo Arts in North Collinwood (397 E. 156th Street, Cleveland, Ohio 44110). Reservations are not required for most events, but are suggested for the Saturday afternoon workshops. The Festival is intended for adults and teens. Further information is available at Playwrights Local's website: http://playwrightslocal.org/.
Playwrights Local is a theater company based in Cleveland. Billed as a playwrights' center, the organization's goal is to provide a home base for novice and experienced dramatic writers in Northeast Ohio. They offer classes and workshops, produce original plays, provide professional development opportunities, and engage the community through site-specific projects. Tax-deductible contributions to this 501(c)(3) group can be made at Playwrights Local's website: http://playwrightslocal.org/donate/.
Contact:
Tom Hayes, Managing Director
Playwrights Local
# # #
Playwrights Local 4181
Playwrights Local is a theater company based in North Collinwood. Our specialization is the development and production of new plays by writers from Greater Cleveland.
Read More on Art News
Volume 8, Issue 10, Posted 7:55 PM, 10.03.2016