Alumni Association Announces Grand Reunion IV for 2017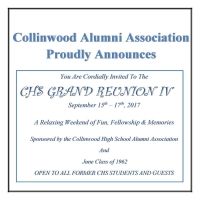 It is with great pride that the Collinwood High School Alumni Association announces Grand Reunion IV long weekend, Sept 15th thru 17th, 2017. Building on the success of the previous Grand Reunions, Grand Reunion IV promises to be the largest gathering of Railroaders ever! According to Len Corpora, V.P. of CHSAA and Chief Marketing Officer, "Our goal is to top 800 attendees. Our early surveys of the streamlined program and multi-faceted marketing approach indicate we should actually exceed this goal".
The gala event is nicely paced over the three day long weekend where attendees can choose which activities they wish to enjoy. Friday features a golf outing, CHS tour, Lolly-the-Trolley tour of Cleveland and culminates with a Bash at the Radisson. Saturday's activities include a Hall of Fame brunch induction ceremony for freinds and family of inductee's followed by afternoon gatherings set at either Chalet Debonne' Vineyard or Trader Jacks, your choice as to where you want to rekindle those friendships and memories. Sunday is the Grand Reunion at the Croation Lodge which will feature a newly redecorated Ball Room for dinner and dancing, an expanded memorabilia room with areas sponsored by participating classes, 50/50 board games, cigar bar and the legendary Collinwood Train, the 999! Arriving attendees will gather in the memorabilia room at noon, enjoy memorabilia and appetizers before entering the main Ball Room. An opportunity to visit this exceptional nostalgia graced area while being welcomed by classmates.
Make your plans early. The program is limited to only 800 people. For a detailed invitation which includes the sign up sheet, visit www.collinwoodalumni.com or contact Michael Cavotta (216/407-3226. mfcavotta@gmail.com) or Frank Zalar (440/497-8243, frankzalar@att.net)
Once a Railroader...........always a Railroader!!
Michael Cavotta
Currently the residing President of the Collinwood High School Alumni Association. Notable acedemic/athletic CHS 1962 grad, Engineering degree from OSU. Founder and owner of Performance Concepts a multi media engineering firm located in Mentor, OH. An innovator in intereactive healthcare products and services. Retired and living in Thompson, Ohio with his wife Wendy.
Read More on Events
Volume 8, Issue 11, Posted 7:00 PM, 11.07.2016