Beachland Hair Designs Annual Open House and Food Drive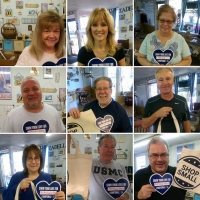 For the last 6 years, Beachland Hair Designs has held their annual Open House and Food Drive, benefitting the Greater Cleveland Food Bank, and coincides with Small Business Saturday, a drive to encourage shoppers to forgo the usual Thanksgiving Holiday weekend shopping frenzy of Big Box shopping, for that of, Smaller Neighborhood Local Shopping. Every year , we ask our clients and friends to participate by donating canned goods and paper products and participating in a small but quaint basket raffle.
This year our open house will be held on November 26, 2016 from 8 am til 3 pm.Door prizes, basket raffle, 50/50 drawing, beverages and tastings will be provided, in return for your kind donation.
We Thank You for your time and please feel free to stop in on Nov. 26, 2016
Happy Thanksgiving from Beachland Hair Design 18324 Lakeshore Blvd. and Susan M. Brandt.
Susan Brandt
My name is Susan Brandt and I live and work in N. Collinwood actually I own a business in N. Collinwood I have a dog named Axel Rose
Read More on Events
Volume 8, Issue 11, Posted 7:00 PM, 11.07.2016