New Food Pantry to Open in Collinwood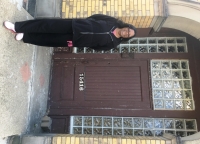 Siggy's Village, a community gathering place in South Collinwood, will open its Food Pantry on Wednesday November 2nd from 9:00am-12:00pm. The pantry will take place every week on Monday from 1:00 pm to 4:00 pm and on Wednesday and Thursday from 9:00pm-12:00pm.
The pantry will provide individuals with basic necessities like food, deodorant, shampoo, toilet paper etc. An ID (State ID, Driver's License, etc.) is required to receive items from the pantry. Please bring bags to help you carry your items. Siggy's Village will also provide one donut and one cup of coffee to individuals.
Siggy's Village is located at 15416 Saranac Road, Cleveland OH, 44110.
Please call Valerie at Siggy's Village (216-862-3815) with any questions or for more information
Valerie Moore
My name is Valerie Moore I work with Danielle Dronet of Siggy's Village in South Collinwood.
Read More on Community
Volume 8, Issue 11, Posted 7:00 PM, 11.07.2016