National Charity Donates to Collinwood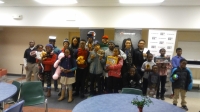 Toyz N Da Hood sponsors local community center event
Tuesday Dec. 20, 2016, Toyz N Da Hood, TNDH, was one of several sponsors of a charity giveback at Five Points Community Center. Amongst the donors was Def Jam Records and StarMusic Media.
The entire event was put together and hosted by Quincy "Big Heff" Taylor, Midwest Rep for Def Jam Records.
TNDH is a charitable organization that provides toys to children whose families are facing dire economic needs. The program started in Atlanta a few years ago. Since its origin, the program has developed into a national initiative with drives in Cleveland, Atlanta, Texas and many more. Every year Toyz N Da Hood reaches hundreds of thousands of children all over the country. The drive also has collaborated with many celebrity endorsers such as Young Jeezy, Chris Brown, Wale and many others.
"It really feels good to help the community and shine light on students that are willing to give the extra effort in school and to pull companies like Def Jam, StarMusic Media, JoyFay International and Nerve DJs together for the 2016 Toyz NDa Hood Campaign at Five Points Community Center that they can smile for the holiday is awesome," Quincy Taylor.
The drive brings together entertainers, artists, schools and a variety of donors. Many influential people came out to speak to the youth and present them with their gifts. County Councilman Anthony Harris, gave an intro speech to welcome the parents and students to the event. Ryan Gilkerson, local radio host; Kelvin "Deuce" Rice, on air personality-Radio One; Ricki Rich, local rapper; and So Blessd an upcoming model gave encouraging words on why school was so important in being successful in life.
Several children were chosen by their teachers to receive gifts for the event. The chosen children were able to choose two gifts from the table of donations and all of the other children in attendance were given the opportunity to choose one gift.
"Thank you to Big Heff and TNDH for the charitable holiday toy give back. Great to see young career men and women giving back to communities through TNDH Charitable Foundation," Brent Minor, Youth Development Coordinator-St. Clair Superior Development Corporation.
This was the first of three events in the Cleveland area hosted by Toyz N Da Hood. The sponsors would like to encourage you to increase your cost of giving this holiday season.
Tyra Byrd
StarMusic Media
216-206-9530
tyra@starmusicmedia.com
Quincy "Big Heff" Taylor
www.nervedjs.com
www.starmusicmedia.com
Tyra Byrd
Youth Coordinator
Read More on Community
Volume 9, Issue 1, Posted 12:11 PM, 01.13.2017