Siggy's Village Ready to Serve the Community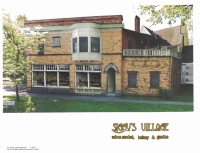 The Center for Advanced Mental Health Practice (CAMHP) is a private practice that provides psychoanalysis, psychotherapy and drug and chemical dependency treatment for eastern Cuyahoga County and Cleveland, Ohio area. As a member of the Collinwood neighborhood, CAMHP began the CAMHP Foundation, a 501 (c) 3 nonprofit organization, to address the needs of residents.
Siggy's Village, a project created by the CAMHP Foundation, gives Collinwood community members of all ages a place to access centralized resources for daily living. Siggy's Village is continuing to expand and grow to offer activities for community members. The CAMHP Foundation welcomes the community to come visit and take part in the activities being offered.
The CAMHP Foundation would like to introduce Samantha Hess as the Administrative Director and Jose Vargas as the Program Director. Both individuals are looking forward to serving the community to provide needs and offer meaningful and fulfilling activities for the Collinwood neighborhood. Their goal through programming at Siggy's Village is to provide a safe and relaxing environment to meet physical, social, and emotional needs by connecting members of the community to one another.
Siggy's Village also offers a food pantry that can provide individuals and families in the Collinwood area with food. With the help of volunteers and the Greater Cleveland Food Bank, Siggy's Village is able to provide food free of charge to those that visit the food pantry. Reducing the prevalence of hunger can cause a ripple of positive changes throughout the Collinwood community.
Siggy's Village welcomes you to be a part of our efforts in our goal to continue to make Collinwood a great place to live and spend time. Siggy's Village is located at 15416 Saranac Road Cleveland, Ohio 44110. We believe that our mission will change the lives of our Collinwood community members. For any questions, to learn more about our project, or to volunteer, please feel free to contact Siggy's Village at 216-862-3815.
Activities and Upcoming Activities
Tuesdays, Wednesdays and Thursdays: Food Bank (9 a.m. to 12 p.m.)
3rd Monday of Each Month: Senior Bingo (9 a.m to 10: 30 a.m.)
Tuesdays: Adult Chess (Time TBA)
Thursdays: Kids Chess (3:30 p.m. to 4: 30 p.m.)
Ages 5-8 @ 3:30p.m.
Ages 9-12 @ 4:00p.m
Ages 13-15 @ 4:30p.m
Saturdays: Music, morning chit chat along with reading to seniors (Time TBA)
Jose Vargas
Jose Vargas Project Director at Siggy's
Read More on Community
Volume 9, Issue 1, Posted 12:11 PM, 01.13.2017