Brian Friedman to leave Northeast Shores as Many New Faces Elected to the Board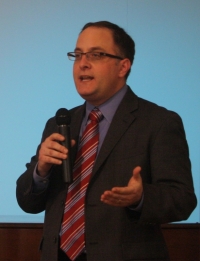 Northeast Shores Development Corporation is welcoming six new board members and one returning face, mine. I previously served on the board from 2001 until 2010 and held the office of board president for the final couple of years. I am choosing to step back onto the board now because the organization is in a rather large transition, with Executive Director Brian Friedman stepping down as of February 2 after 13 years in that position, and current board President Laura Lee Martin is also leaving that position, along with Treasurer Aaron Haberman.
I was on the search committee when Northeast Shores hired Brian Friedman as a young ambitious community-minded ED. He had worked in Lorain County and interned in Columbus and was ready to take on North Collinwood even though he was still in his twenties. In his 13 years, he leveraged the arts development that was happening on Waterloo and brought millions of dollars of grants to the area. He and his team also successfully transformed the corner of Neff and E 185th into a new Sav-a-lot and Key Bank, and more recently took on the gigantic task of rehabbing the old LaSalle movie theater. The list of accomplishments is too long to go into here, but I am sure we will be thanking Brian in public sometime soon.
Today, there are gigantic tasks before Northeast Shores starting with a search for a new Executive Director. For now Assistant Director Camille Maxwell will be jumping in as Interim ED. The LaSalle project needs to raise the final funds to complete that project. Northeast Shores needs to complete its move to E 185th and finish the transformation of its current offices on E 156th Street into live/work spaces. And so much more.
That is why I and 6 other North Collinwood activists/cheerleaders all decided to sign up to run for the board this year and then invited everyone we know to come vote for us. So in the end, the room at the Rec Center for the Annual Meeting, on Tuesday January 17, was crowded and 103 votes were cast, and more people paid annual membership dues to Northeast Shores than ever before. Elected were Christen DuVernay, a resident in the Waterloo neighborhood with extensive non-profit and teaching experience; John Farina, a resident of Shore Acres who also has extensive non-profit experience and started the Maria Neil Art Project in Waterloo; Robert Gatewood, a lifelong resident of the area who is launching his own design company/collaborative space in conjunction with the LaSalle; Adam Tully, a resident of Shores Acres, librarian and partner in Maria Neil Art Project; Peter Brown, a Waterloo resident and business owner of Six Shooter Coffee, and Daniel Gray Kontar, writer, educator and founder of Twelve Literary and Performative Arts space in the old Northeast Shores office complex on E 156th. I, of course, am also a 30-year neighborhood resident and co-owner of the Beachland Ballroom, which we started in 2000.
There were 16 capable people running for 7 seats on the board. I think it was a surprise to all 7 of us that we swept the election. So we want the entire neighborhood to know that we all are ready to work hard for North Collinwood, and request that everyone who joined NESD to vote for us, now needs to also join committees, add your voice to the organization, and state what you would like to see us take on as neighborhood priorities, with the help of Councilman Polensek and area funders. North Collinwood is at a crucial turning point with many eyes watching how we will handle our potential in the next few years. If you are not a member of Northeast Shores, please join and come to meetings.
Cindy Barber
Resident of neighborhood since 1956. Worked on East 185th street since 1970.
Read More on
Volume 9, Issue 2, Posted 6:05 PM, 02.08.2017