Catholic Schools Week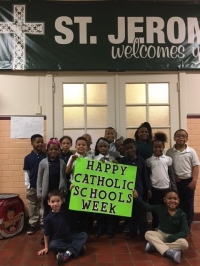 St. Jerome School is celebrating Catholic Schools Week from January 29th to February 3rd. The children and teachers have a wonderful week planned that includes an open house, games, and community outreach activities! The children will also have a chance to vistit the Book Fair during Catholic Schools Week to look for new books to purchase for their own use.
On Sunday, January 29th, we will be kicking off Catholic Schools Week with Mass at 10am followed by an Open House from 11:00-12:30. The school will be open for our present and prospective families as well as members of the community. Stop by to see what is going on at St. Jerome School!
Monday, January 30th, each classroom will be assigned a non-teaching staff member to make appreciation cards for. All of our staff members work extra hard for our students and this is just one way the children can show their appreciation.
On Tuesday, January 31st we are celebrating Parent Appreciation Day. The children will be able to enjoy some pastries and juice with their parents/guardians at 7:30am in the gym.
Wednesday, February 1st is dedicated to our students. All the children will receive no homework for the day! The also will get to partner up with another grade level and match them in a game of bowling. The class with the highest score will get a chance to play against the teachers later that day. Our students have been practicing their bowling skills in Physical Education class!
On Thursday, February 2nd, we are dedicating our day to Community Outreach. All the students at St. Jerome School will be making cards that we can send to the Slovenian Home for the Aged. We also will be having a candy jar raffle that will be going on all week. The proceeds from this will be donated to the Cystic Fibrosis Association.
Friday, February 3rd, is Teacher Appreciation Day. We will be having parent volunteers coming in to help with lunch and recess.
We are all looking forward to another great Catholic Schools Week!
Lyndsey Byrne
Kindergarten Teacher at St. Jerome School.
Read More on St. Jeromes
Volume 9, Issue 2, Posted 6:05 PM, 02.08.2017