Euclid Beach Adopt-A-Beach Team 2017 Cleanup Schedule!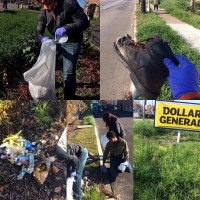 There's never been a better time to get outside, tidy up the neighborhood and help protect our Great Lakes environment. The Euclid Beach Adopt-A-Beach Team is gearing up for another year of cleanups and we'd love to have you join us! Check out our upcoming events, give us a like on Facebook, and contact us anytime at adopt.euclidbeach@gmail.com!
March 25, 2017 - Cleanup Details
Volunteers will meet outside the Collinwood Recreation Center (16300 Lakeshore Blvd.) in the parking lot at 10:00 AM for registration. Cleanup teams will pick up litter along Lakeshore Boulevard. Gloves, bags, rakes and trash pickers will be provided. However, you are welcome to bring your own. We will have coffee and other refreshments. Volunteers under 18 are required to have a parent or guardian complete the sign in registration and volunteers under 13 are required to be accompanied by a parent or guardian.
Why a Street Cleanups?
Every time it rains, litter from our streets makes it way into our storm sewers and our storm sewers outflow either directly into Lake Erie or into creeks and tributaries. If it is on the ground, chances are it will make it into our water. Let's do our part to keep trash out of our waterways!
Need motivation?
All volunteers will receive a coupon good for one half off the purchase of a drink and meal item from Chili Peppers Restaurant (869 East 185th Street). Please be sure to thank owner Steve Newman when you stop in!
2017 CLEANUP SCHEDULE
March 25 @ 10:00 AM - Street Cleanup
April 15 @ 10:00 AM - Euclid Beach Cleanup
May 6 @ 10:00 AM - Neighborhood Cleanup - "Collinwood Cleanup Day."
June 10 @ 10:00 AM - Euclid Beach Cleanup
August 5 @ 10:00 AM - Street Cleanup
September 16 @ 10:00 AM - Euclid Beach Cleanup - "International Coastal Cleanup Day."
October 14 @ 10:00 AM - Street Cleanup
November 18 @ 10:00 AM - Euclid Beach Cleanup

Stephen Love
Stephen Love is a Lake Erie fanatic from Cleveland and coordinator of Euclid Beach Adopt-a-Beach Team.
Read More on Community
Volume 9, Issue 2, Posted 6:05 PM, 02.08.2017