Joyce Ramey Palumbo (3/19/1954 - 1/27/2017)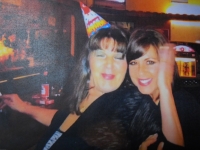 Old Friends
Hey, old friend
What d'ya say, old friend?
Are you okay, old friend?
Are we, are we unique?
Time goes by
Everything else keeps changing
You and I, we can
Continue next week, yeah
Most friends fade
Or they don't make the grade
New ones are quickly made
And in a pinch, sure they'll do
But us, old friend
What's to discuss, old friend?
Here to us, who's like us?
Damn few
Song lyrics by Stephen Sondheim (b 3/22/1930) from musical Merrily We Roil Along (1981)
Rubaiyat verse - A Calling
Early one morning I heard an angelic chime
Bringing news of a loving and joyous clime
Pursuit of the unimportant is the worst crime
Live in joy & love before the end of your time.
by Omar Khayyam (5/18/1048-12/4/1131) Nishapur, Persia, present day Iran
William McCulloch
Amateur local historian
Read More on Community
Volume 9, Issue 3, Posted 3:59 PM, 03.09.2017