Tetélestai returns to St. Jerome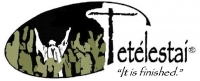 St. Jerome is delighted to welcome Cleveland Performing Arts Ministries production of Tetélestai. For 40 years audiences have been moved by this powerful, live portrayal of the "Trial, Execution and Resurrection of Jesus the Messiah." Make this wonderfully spiritual experience part of your Lenten journey.
Friday, March 17th or Saturday, March 18th at 8pm
Sunday, March 19th at 2pm
Free admission - Donations gratefully accepted. Youth groups may reserve seating by calling (216)481-8200.
Adele Markert
Parish Secretary/business manager at St. Jerome Church
Read More on St. Jeromes
Volume 9, Issue 3, Posted 3:59 PM, 03.09.2017