The Coit Rd Farmers' Market French Toast Breakfast and Kitchen Addition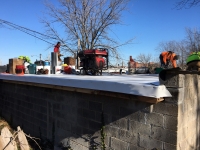 The Coit Rd Farmers' Market Annual French Toast Breakfast will be Saturday, April 8, from 10:00A to 12:00P. Ten bucks gets you three slices of French toast, maple syrup along with a choice of meat (bacon or chicken sausage) and coffee or apple cider. Plates will be provided for those who want to share with their child under 10 years of age. As always this meal is made with all locally produced ingredients.
The market has long sought the ability to offer prepared food from a full kitchen. Funding is expected to build a kitchen in the rear utility building this year. This was helped by a donation of roofing materials from Johns Manville Corporation and the installation by Professional Roofing of Strongsville.
Ohio Direction Card Users get $20 worth of food for $10 charged to their card each day they shop at the market. The market is open Saturdays year round from 8:00 AM to 1:00 PM and is located at 15000 Woodworth Rd near East 152nd and Noble Rd. Wednesday hours from 10:00 AM to 1:00 PM will begin May 31. Call 216-249-5455 during market hours or go to www.coitmarket.org for additional information.
Read More on Community
Volume 9, Issue 4, Posted 5:26 PM, 04.11.2017