Bari Beauty and Health Plus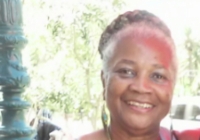 An encore career is when a person enters a new line of work after they retire from their original career. Typically, the new career path offers a greater level of personal meaning and social impact than previously experienced. This is so true of our Grameen recipient, Barbara Liddell.
As a Registered Nurse with a Master's in Community Health, Barbara has had a successful 40-year career in the health care field. During that time, she has cared for thousands of Cleveland Metropolitan School District students.
Further, Barbara has provided nursing care for various members of her family because being number 11 out of 12 children there is ample opportunity! She willingly provides care, compassion, and shares her knowledge. This includes caring for her mother who, at 104 years old, still lives in her own home!
Once Barbara retired from being a full-time nurse, she recalled a memory from her high school days about wanting to start a business. Even without retail business experience, she embarked on her encore career.
Enter Bari Beauty & Health Plus!
Barbara is the sole proprietor of Bari Beauty & Health Plus, located on East 185th Street. This retail store opened in 2007 and is dedicated to carrying high quality, unique beauty and health care items as well as homemade wines.
Bari Beauty & Health Plus has organic soaps made of all natural ingredients such as oatmeal, cocoa butter, shea butter, aloe vera, and coconut. The store also stocks supplements, organic oils (topical and edible), and Dashiki tops (African designs).
Further, Granny's Wine, lovingly crafted from a family recipe, is available for tasting and for sale. The wine is made from select grapes and other fresh fruit. The flavors that are regularly stocked include Concord, Merlot, Muscato, Peach, and Strawberry. Other flavors are dependent on the season and availability of fresh ingredients. The recipe originated with Barbara's father, Virgil Liddell. He brought it to Ohio from his boyhood home in Mississippi. The picture found on every label is that of Barbara's mother, Minnie Lee Liddell.
You see, this business is inspired by a caring heart and a desire to stay close to family. So, it's no surprise that Barbara's family is involved with the store. Daughter Shakeela helps with the website and marketing. Nephew Edward operates the store on weekdays. Son Amal is in charge of the production and bottling of Granny's Wine.
Barbara's careers, both as a nurse and now as a business owner, are rooted in family and community. Her strong civic-mindedness led Barbara to initiate the first Walk and Roll E. 185 event in 2016, which aimed to bring energy and life back to East 185th Street. She was able to do this with a Neighborhood Connections Grant and support from the Northeast Shores organization. Barbara informs us there are more activities planned for 2017 so be on the lookout for information!
Barbara aims to be of service by providing useful products, sharing information and being a resource to those who cross her path. She believes strongly that God has been vital in keeping the store open all these years. It is her fervent goal to do good for others. Can you imagine if there were even more hours in the day?!
She thanks Our Lady of the Lake parish for the Grameen program and this opportunity to share her gifts. Please stop by the store and say "hello". Barbara and her family would love to talk with you.
Bari Beauty & Health Plus
637 East 185th Street
Euclid, OH 44119
Store hours: Tuesday through Saturday 11:00 am to 7:00 pm (Closed Sunday and Monday)
(NOTE: Barbara is usually at the store Tuesday through Friday from 5:30 pm to 7:00 pm
and Saturday 11:00 am to 7:00 pm)
Sarah Gyorki
Resident of neighborhood since 1956. Worked on East 185th street since 1970.
Read More on Community
Volume 9, Issue 5, Posted 4:02 PM, 05.07.2017