Owner Of Star Pop Raises Money For Public Television As Guest Auctioneer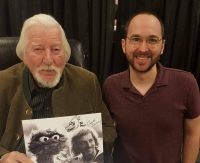 Troy Schwartz, the owner of STAR POP vintage + modern in Cleveland's Waterloo Arts District, was recently honored to be asked to be a guest auctioneer for WVIZ/PBS Ideastream's annual auction. "I grew up watching WVIZ and it meant a lot to be asked to come in and help give something back," said Schwartz. It was the 50th anniversary of the televised auction, running from April 20-23, 2017. Schwartz manned the Friday and Sunday night shifts. In the end $418,489 was pledged during the auction, which goes towards helping to keep WVIZ/PBS on air.
"As someone who buys and sells a lot of kids' toys and collectibles I'm a big fan of the educational programming that PBS Kids provides to help give all kids a healthy love of learning and a good head start for school," reflects Schwartz. "Inside the Idea Center there was a large guitar statue that was painted with a picture of Sesame Street's Big Bird. I recently had the opportunity to meet Caroll Spinney, the actor who performed both Big Bird and Oscar the Grouch's characters since 1969, so seeing that gave me a big smile each time I saw it."

Schwartz is a lifelong collector of toys, video games, records, vintage clothing, and other pop culture collectibles. Since 2009, STAR POP has been buying collectibles in order to offer a more sustainable shopping experience for collectors of all ages. He is the fourth generation of his family to be involved in the toy business and his father sparked his interest in collectibles dealing. Jim Henson is his idol. Passionate about diversity, the arts, and sustainability he loves the role his store has in all three. He chose to open a shop because selling online or setting up at the occasional event didn't provide the sense of connection he gets as a shopkeeper in the North Collinwood community. The Waterloo Arts Fest will mark the store's eighth anniversary. Store events are posted on its Facebook page, which can be reached by going to www.starpopcleveland.com.
Read More on Community
Volume 9, Issue 5, Posted 4:02 PM, 05.07.2017