RTA and Job Corp Join Forces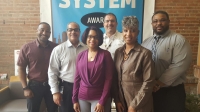 The Greater Cleveland Regional Transit Authority (RTA), Amalgamated Transit Union (ATU) and the Cleveland Job Corps Center have joined forces to teach and train the next generation of workers, and provide job opportunities for interns to work at the transit system in the weeks and months ahead.
Our joint agreement was finalized with the Cleveland Job Corps Center they will provide RTA with student interns. After the students complete a five-week internship RTA will assist them with possible employment opportunities in various departments, including those in the skilled mechanical and electrical trades.
"Through this agreement, individuals with a high school diploma, will have the opportunity to tap into all the benefits of the internship program. This effort allows students to transition more easily from school to work and take advantage of the invaluable opportunities afforded through work-based learning," said RTA CEO and General Manager Joe Calabrese.
The goal of the program is to afford real life job experiences to the students and to create a pipeline of applicants for organizations such as the RTA.
"It's a win-win opportunity," Calabrese said. "The students benefit from on-the-job training, and RTA and the ATU benefit from tapping into the skills of students who have achieved the high standards and succeeded in the rigorous training of the Job Corps."
"Cleveland Job Corps is very thankful for the opportunity to partner with the RTA", said Cleveland Job Corps Center Director, William Houston. "We hope our students will be able to fulfill the skills gap that has been looming in the RTA Corporation for the past couple of years. It is our goal to make sure the students are responsible, committed and prepared for this wonderful opportunity."
Job Corps is a no-cost education and career technical training program, administered by the U.S. Department of Labor, that helps young people ages 16 through 24 improve the quality of their lives through career technical and academic training. At the Cleveland Job Corps Center, we support the Job Corps program's mission of teaching eligible young people the skills they need to become employable, independent and placing them in meaningful jobs or to further their education.
Resident of neighborhood since 1956. Worked on East 185th street since 1970.
Read More on Community
Volume 9, Issue 5, Posted 4:02 PM, 05.07.2017