Walk & Roll … and Stroll!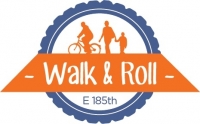 Last year, the E. 185th Merchants came together and held their first Walk & Roll E. 185 Sidewalk Sale and Festival. It was a fun day out, with a bike rodeo, a small parade, bands and bounce houses and fun activities all up and down the street. This year they're bringing it back – and bringing in a new partner. For the first time, E. 185th St. will collaborate with the E. 200th Street Stroll to plan a full day of fun for our neighboring districts. Both events will be held on Saturday, June 3, with the E. 200th Street Stroll kicking off at 10am and running to 2:00pm, followed by Walk & Roll E. 185 from 2:00-6:00pm. Both are fun, free, community-based events where businesses, residents and community groups come out to share a day of strolling and rolling, face painting and balloons, live music and line dancing and much more. The Euclid Beach Rocket car will offer rides at both events until 4:00, and there will be lots of games and prizes for the little ones, as well as a chance to meet new neighbors and check out that local business you've been meaning to stop into. A simple celebration of community is just what we need right now, so we hope you'll join us. If you have a community group or other organization that would like to participate, please contact Barbara Liddell on E. 185th St, at WalkAndRollE185@gmail.com, or for E. 200th Street contact Sherrie Zagorc at E200thStreetStroll@gmail.com.
Sarah Gyorki
Resident of neighborhood since 1956. Worked on East 185th street since 1970.
Read More on Community
Volume 9, Issue 5, Posted 4:02 PM, 05.07.2017