Job help coming to Collinwood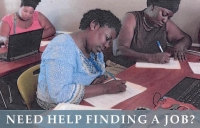 New help is coming for residents in and around the Collinwood area that are hoping to find jobs. Starting on Tuesday, May 30, 2017 Five Pointe Community Center and the West Side Catholic Center are partnering up to launch a new "Workforce Development Program". The Workforce Development Program is a two week course that runs from 10 a.m.-Noon – Monday through Friday that will assist those who are looking for jobs to gain experience and assistance in navigating their way through the maze toward employment. Five Pointe Community Center is located at 813 E 152nd St. in the heart of Collinwood.
"We realize that there are folks out there that are looking for work and there are employers who are looking for help but they are not always connecting. This program will go a long way toward connecting these two sides," said Jamar Doyle, Associate Director. "By bringing the experience of the West Side Catholic Center here we are hoping to get people the little extra help to be work ready. It is an employer's market and if you don't present yourself in the right way you aren't going to get an interview."
The program will give participants help with planning and assessing their skills, creating resumes and cover letters. The course will also give help with networking with others, computer skills classes and mock interviews. The series will culminate with an event that will allow interaction with job recruiters and staffing agencies.
Frank Johanek, the manager of the Economic Opportunity Program at West Side Catholic Center, who has worked with other agencies in collaborative efforts said, "I was excited to partner and offer assistance to this important neighborhood working hand-in-hand with the St. Clair-Superior Development Corporation. We have been working on this partnership since last fall and I believe that it will go a long way to address the needs of the residents who are seeking employment"
Last fall, the St. Clair-Superior Development Corporation invited the West Side Catholic Center to discuss forming a partnership to address an important need in this neighborhood, high unemployment. The West Side Catholic Center, located at 3135 Lorain Ave. has developed a Workforce Development Certification Program over four years that has a record of helping people on their path to employment. It starts from the beginning with assessments and end with interviews upon completion.
After completing the two week course at the Five Pointe Community Center participants can take further steps by taking ACT WorkKeys Testing. The testing, which is part of Ohio Means Job, is a series of tests which allow employers to gage whether or not an individual is suited for their job prior to looking at their resume'. This is helpful for those individuals who have gaps in employment or other background issues to prove that they are qualified. Most people believe that if they have any serious infraction in their history that they will be precluded from even getting an interview. "We work with companies that have told us that if a person receives the needed score on the tests that they will receive an interview regardless of what might be in their history," explained Johanek. He continued, "This could include past criminal infractions which is something that hampers many members in every community."
For more information call Frank Johanek at 216.631.4741 or Five Pointe Community Center at 216.268.2138.
Peggy Kearsey
Office manager, Five Pointe Community Center
Read More on Community
Volume 9, Issue 6, Posted 6:04 PM, 06.13.2017