Artist Spotlight- David Todd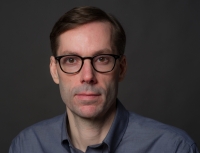 You could now argue that North Collinwood is quickly becoming the epicenter of original, Cleveland playwriting and production - that's thanks to the work of Playwrights Local.

Under the leadership of artistic director David Todd, Playwrights Local launched in 2015 as a collaborative team of local dramatists seeking to produce and elevate the work of Cleveland writers. When Todd and co-founder Tom Hayes began discussing which neighborhood would be a fit for their incubator for dramatists, North Collinwood came to mind in short order.

Todd knew North Collinwood was a neighborhood that provided resources for studio artists, musicians, and creatives in a multitude of media, but he wasn't sure about performing and literary arts. He met with Cindy Barber, co-owner of the Beachland Ballroom & Tavern to get a lay of the land and was quickly connected to Amy Callahan at Waterloo Arts. The way forward made perfect sense from there.
Playwrights Local partnered with Waterloo Arts and kicked off the group's founding with the widely attended Cleveland Playwrights Festival in the Creative Space at the rear of Waterloo Arts. Dozens of writers from across the region attended the two day event in early November 2015.
From there, the original works produced by Playwrights Local over the 2015-2016 and 2016-2017 seasons never failed to draw packed audiences or challenge their perceptions. Through a combination of writers workshops, including the Play Lab, new works from Cleveland writers found their way from concept to live performance. Noted productions like To the Orchard and This is Not About My Dead Dog found regional acclaim from the community and critics alike. But it was the guild's Objectively/Reasonable: A Community Response to the Shooting of Tamir Rice in 2016 that took the organization to the national spotlight.
Objectively/Reasonable was written by an ensemble of local playwrights, but the content itself came right from the mouths of Clevelanders, following the death of Tamir Rice. As self-described by Playwrights Local: "[Objectively/Reasonable is] a documentary play on the impact and aftermath of the Tamir Rice shooting, expressing unheard voices from the Cudell neighborhood and Greater Cleveland. This new work lets the people speak, with their fears, reservations, and hopes fueling monologues drawn from original interviews. Created by an ensemble of playwrights-Mike Geither, Tom Hayes, Lisa Langford, Michael Oatman, and David Todd-Objectively/Reasonable features direction by Terrence Spivey, former artistic director of Karamu House."
The first run of performances from August 18 - September 4,2016 at Waterloo Arts were met with sold out audiences, spurring a return to the stage in February 2017. The work quickly gained recognition across Northeast Ohio for its honest and raw discussion about the death of Rice in 2014. In October 2016, excerpts of the play were performed live on NPR's Going There with Michel Martin, hosted at Playhouse Square.
It might be no surprise to learn that it's precisely these experimental or "downtown" plays that Todd is drawn to personally. It's a large part of the reason he and his colleagues formed Playwrights Local: to build a space for local writers to develop compelling, authentic works and bring them to a community stage.
Todd's own work as a playwright first appeared in his native home of Cleveland, before he moved on to New York and Chicago where he sharpened his craft. He was involved in a number of playwriting residencies and theaters through the 1990s and early 2000s, including the New York Theatre Workshop (where he is currently a "Usual Suspect") and Chicago Dramatists.
By day, Todd gets to teach what he loves most: writing. He currently serves as lecturer in the English Department at Cleveland State University, but his previous teaching credentials include time spent at New York University, Cuyahoga Community College and Otterbein University.
His personal works in playwriting lean more toward the experimental, which is a branch of the craft he hopes to see more of in Cleveland. Even reproductions of the most challenging plays (from around the nation or region) leave something to be desired - there's much that's already been absorbed from the narrative they present.
"What we're trying to do with Playwrights Local is present work that has the charge of something Off-Off-Broadway, something that's yet to be dissected," explains Todd.
Getting those pieces to the stage is no easy task.
"This is one reason productions take up so much of Playwrights Local's time and resources," according to Todd. "We want to get the message out that plays by Cleveland writers deserve to be produced on main stages with the full attention of the theaters behind them-that those plays should be funded, promoted, and given runs of proper lengths, as opposed to being relegated to off-nights or third stages by companies with other priorities. Slowly but surely, we'd like to make local plays a bigger part of the cultural life here in town."

And if their current body of work is any indication, it appears that Playwrights Local just might be succeeding.

Following a busy season, Playwrights Local will be working behind the scenes for the next several months in preparation for their third season of workshops, festivals and productions at Waterloo Arts starting this September. They also lead the Storytellers' Stage at the recent Waterloo Arts Fest on June 24.
For more information about Playwrights Local, David Todd and the other creative leaders behind the scenes of Cleveland's new home for local writers, visit their website or Facebook page. To learn more about Waterloo Arts and their community arts programming, visit them on Facebook or their website.
Read More on Community
Volume 9, Issue 7, Posted 11:04 AM, 07.07.2017