Bikes, Family, Fun: Ward 10 Bike-A-Thon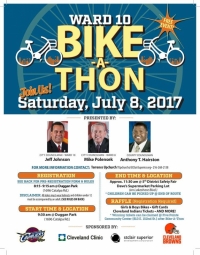 Ensure your spot today for the Ward 10 Bike- A-Thon! Slots are filling up quickly. You don't want to miss out on the largest biking event on the east side of Cleveland! The Bike-A-Thon is FREE EVENT, presented by Cleveland City Councilmen Jeff Johnson, Mike Polensek, and Cuyahoga County Councilman Anthony Hairston. Organized by, Terrence Upchurch Ward 10 Intern, St Clair Superior Development Corporation, and Cleveland Police Fifth District Office. The Bike-A-Thon will feature a chance to win bikes, Indians tickets, and other prizes. This event will guarantee safe family fun as well as a chance for residents to get to know the police officers that serve them.
When: Saturday, July 8, 2017
Where: Duggan Park (1619 Catalpa Rd)
Registration Time: 8:15 am -9:15 am
Route will begin: 9:30 am at Duggan Park
Route will end: 11:30 am at 5th District Safety Fair in Dave's Supermarket Parking Lot (on Lakeshore Blvd)
Some sponsors include Cleveland Cavaliers, Cleveland Clinic, and more. We hope to see you there! If you are interested in participating please contact the Five Pointe Community Center at 216.268.2138 to register.
FIRST 50 REGISTERED RIDERS GET A FREE CAVS HAT AND WATER BOTTLE
terrence upchurch
Terrence Upchurch is a Ward 10 Resident and Community Organizer who works with St.Clair Superior Development Corporation and Collinwood Nottingham Villages Development. Also, serves as President of Friends Advisory Board to Collinwood Recreation Center and is a co-chair of Nottingham Civic Club.
Read More on Events
Volume 9, Issue 7, Posted 11:04 AM, 07.07.2017