Scoop on Summer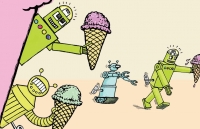 Have you gotten your copy of this year's Scoop on Summer?!
With summer in Collinwood comes the amazing, full-color print Scoop on Summer, in print and updated all Summer long at http://collinwoodscoop.org/. You can pick up your copy at local business, libraries, and other places in & around Collinwood thanks to the support of so many sponsors, and the contributors who send in event listings. Want to know about events happening ALL YEAR ROUND? Then the Scoop on Collinwood: a shareable, save-able calendar format that you, too, can submit events to all year long is the perfect place to go!
John Copic
Resident of neighborhood since 1956. Worked on East 185th street since 1970.
Read More on Community
Volume 9, Issue 7, Posted 11:04 AM, 07.07.2017