Mentors needed for Cleveland 8th graders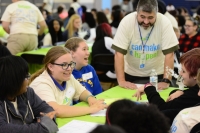 Apply now to help shape our community's future leaders

Volunteer mentors are needed for True2U, the program that supports Cleveland eighth graders as they explore their true selves and prepare to transition into high school. The coming school year is the first year True2U will serve all CMSD 8th graders—about 2,500 youth, and 600 mentors are needed.

Mentors work in teams of two or three and will spend 8 Thursday mornings helping small groups of students, in one participant's words, "prepare for the future with what I know about myself."

Mentor teams facilitate discussions and activities in a structured curriculum that helps youth uncover their interests and strengths, and set goals. The youth can then connect their goals to the diverse educational opportunities offered by the 37 high schools in the CMSD portfolio, setting them on a path of success in college and/or their careers.

Training and enrichment in the topics, facilitation, and cultural competency skills is provided. And mentors will have the satisfaction of helping shape—and being shaped by—the next generation of Cleveland's leaders.
Mentors are needed at all of the Collinwood grade schools, so you can indicate your preference for East Clark, Euclid Park, Hannah Gibbons, Memorial, OH Perry, or any K-8 school in the district when you apply.

The deadline to apply to be a mentor is August 28, 2017. Applications and a complete schedule can be found online at neighborhoodleadership.org, or by calling program manager Molly Feghali at (216) 658-1366.

True2U is presented in partnership by the Cleveland Metropolitan School District, The Greater Cleveland Partnership, MyCom, Neighborhood Leadership Institute, and the Northeast Ohio Faith-Based Collaborative.
Molly Feghali
MyCom Project Manager, True2U @ Neighborhood Leadership Institute
Read More on Community
Volume 9, Issue 8, Posted 12:12 PM, 08.04.2017