International Coastal Cleanup Day at Euclid Beach Park - Saturday 9/16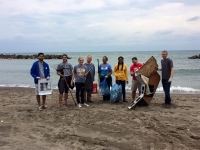 Be part of a global beach cleanup in partnership with the Alliance for the Great Lakes Adopt-a-Beach program and the Ocean Conservancy. On International Coastal Cleanup Day, thousands of volunteers head to beach cleanups around the world to raise awareness about the challenges of plastic pollution in our water. Debris collected at the Euclid Beach cleanup is recorded on data cards and submitted to the Alliance for the Great Lakes and the Ocean Conservancy along with data from beaches across the globe!
Volunteers will meet at the Euclid Beach Picnic Pavilion about 10-15 minutes before the cleanup to sign in. Refreshments will be provided to before and after the beach cleanup and all participating volunteers will receive a half off coupon redeemable at Chili Peppers restaurant, 869 E 185th Street, towards the purchase of one entree and drink.
Rain or shine, dress for the weather. Bring water, Wear long sleeves and pants, boots or work shoes, and work gloves are recommended. Trash bags and gloves will be provided.
All groups are welcome to participate, but children under age 18 require a parent or guardian's signature upon sign in. Children under 13 must be accompanied by an adult.
No pre-registration required! For more information visit facebook.com/AdoptEuclidBeach or contact Dan Subwick and Stephen Love at adopt.euclidbeach@gmail.com phone 216-571-0685.

Stephen Love
Stephen Love is a Lake Erie fanatic from Cleveland, OH. In his day job he works for the Cuyahoga Land Bank and in every other waking moment is the founder and coordinator of Euclid Beach Adopt-a-Beach Team and Euclid Beach Blast! He started Euclid Beach Blast out of a desire to explore the connections between environmental stewardship, art, public spaces, music, and community.
Read More on Green Collinwood
Volume 9, Issue 9, Posted 4:22 PM, 09.14.2017