STEP UP for St. Jerome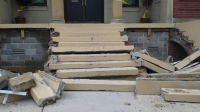 If you have driven past St. Jerome School lately, you will have noticed that the front steps to the school are being replaced. 95 years of Cleveland winters have taken their toll. It is a big project but the safety of the children comes first and as the stairs were disassembled we discovered that there was structural deterioration to the support beams for the landing that had not been visible. Repairs are well under way and we hope to have the steps completed for the first day of school.
So many graduating classes, First Communicants, and reunion attendees have stood on those steps to have their picture taken over the years that the steps really are a big part of people's memories of St. Jerome School. Please go to www.stjeromecleveland.org for more pictures, information and to learn how you can help insure a firm footing for future generations.
Adele Markert
Parish Secretary/business manager at St. Jerome Church
Read More on St. Jeromes
Volume 9, Issue 9, Posted 4:22 PM, 09.14.2017