A Victory for Environmental Justice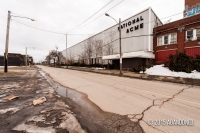 Today, September 20, 2017 at 10:30 AM– after three years- the third and final defendant in the illegal demolition of the National Acme complex located at 131 East 131 Street was sentenced in Judge Donald Nugent's Federal Courtroom. Mr. William Jackson, Jr., age 47, plead guilty to two counts of violating the Clean Air Act including failing to remove asbestos related materials prior to demolition and failing to dispose of that asbestos properly. His sentence was 33 months in Federal Prison plus restitution.
His sentencing comes on the heal of the sentencing of Mr. Christopher L. Gattarello, who received 57 months in Federal Prison and Mr. Robert Shaw, who received 12 months in Federal Prison. Both of them have already been incarcerated and the city is seeking financial restitution from them as well. I testified in Federal Court against them as well.
The City is seeking restitution of a total of $5.9 million from all three of them, which is the estimated cost to clean up the site and demolish the rest of the factory. As I testified in Federal Court today, this is about environmental justice for the residents of the East Glenville neighborhood. National Acme was once the largest employer in the Glenville community and what these individuals did was absolutely outrageous. When I became Councilman of this area in January 2012, due to redistricting, I made a commitment to the residents and businesses in the area, that I would not rest until the perpetrators who committed this environmental abomination would be brought to justice. Today was a culmination of that effort.
I wish to thank the US Attorney's office, the US EPA investigators and the City of Cleveland's Law Department for all their hard work on this case and bringing these "environmental gangsters" to justice and above all the Greater Glenville community, who had been tolerating this environmental disaster for nearly six years.
There is a significant lesson to be learned here and that is – that the City of Cleveland's Building & Housing Department along with the Health Department and the Department of Law must take a much more aggressive approach in dealing with illegal operations within the City of Cleveland. I ask myself – what happened prior to January 2012? Why was this site not inspected thoroughly and why was there not aggressive action taken to prevent this disaster from occurring in the first place?
I am determined to go after every illegal operation, large or small, who disrespect our community and the residents and businesses who live and work there. I have officially asked the City's Director of Law, Ms. Barbara Langhenry, and the Jackson Administration, to aggressively seek the help of the US and Ohio EPA to see if we can get this site cleaned up with their help. For, properly abated, this site could be put back into productive re-use just as the historic Collinwood Railyard had been. This site has direct access to I-90 in addition to rail access itself.
Thanks again to all who stood with me – for, again, this was a victory for environmental justice for our greater community. However, the fight is not over until the site is properly cleaned and abated.
Michael D. Polensek
Councilman, Ward 8
mpolensek@clevelandcitycouncil.org
(216) 664-4236
Councilman Polensek
Resident of neighborhood since 1956. Worked on East 185th street since 1970.
Read More on Community
Volume 9, Issue 10, Posted 3:28 PM, 10.08.2017