Little Free Library Birthday Celebration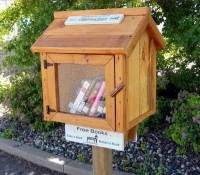 Gleeful children and satisfied adults snacking on pizza and cookies and choosing prizes and books lent an air of festivity to a warm, sunny mid-September afternoon. Collinwood Neighborhood Catholic Ministries commemorated Right to Read Month by hosting a party marking the fourth year that their little free library has served the area families.
The Little Free Library is situated in front of the Collinwood Neighborhood Catholic Ministries House located at 15706 St. Clair Ave., on the corner of Royal and St. Clair. Those from 1 to 101 years of age and beyond are guaranteed to find a book that will bring them enjoyment. Books are available in the Little Free Library "house" 24/7. Over 1000 books per year are put in Collinwood residents' hands. If you not visited our Little Free Library, please come over to find something that will engage and delight you.
The Little Free Library is made possible by donations from communities of religious women, parishes and neighbors. The Jenifer fund of the West Side Catholic Center provided the prizes and refreshments for the party.
Sr. Madeline Muller
staff member, Collinwood Neighborhood Catholic Ministries
Read More on Community
Volume 9, Issue 10, Posted 3:28 PM, 10.08.2017