Seeking Volunteer Opportunities for High School Students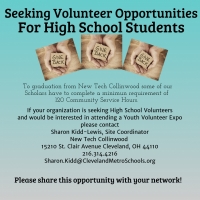 New Tech Collinwood Students are required to complete a minimum of 40 community service hours as a basic graduation requirement. Some students have to complete an additional 120 community service hours.
We are looking to connect with non-profits, community businesses and organizations to help our scholars complete these requirements. Students are able to independently complete community service hours after 2:30pm during the school week and on the weekend. If you are a non-profit, business or community organization and are interested in hosting student volunteers after school and on the weekends, please contact Sharon Kidd-Lewis, Site Coordinator at New Tech Collinwood via phone or email at 216.314.4216 or Sharon.Kidd@Clevelandmetroschools.org.
The following information is required:
Name of the organization
Agency's mission/ vision/ or detailed description about you so our volunteers can learn more about you
Volunteer Contact name, number and email address
Dates/times of volunteer opportunities
Volunteer Job Descriptions
Any special requirements
Any information provided will be placed in our Community Service Directory that will be available for all students. We are also looking to host a Youth Volunteer Expo in October if enough organizations show interest. The Youth Expo would be a one day event for high school students to meet non-profits recruiting youth volunteers. Scholars would have an opportunity to learn what roles they have, ask questions about what they do, and sign up for different volunteer roles of interest. Please feel free to share this opportunity with your network.
Thank you for your continued support of Collinwood High School.
Sharon Kidd-Lewis
At New Tech Collinwood, students have access to the latest technology for every lesson, every day. Students develop 21st Century skills while conducting research, collaborating with classmates, sharing ideas and completing projects.
Read More on
Volume 9, Issue 10, Posted 3:28 PM, 10.08.2017