Artist Live/Work Space Available!!!!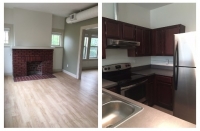 Dream of having a place where you can live and create art? If so, you need a state of the art live/work space! Join a community of artists at this renovated residence. Artist tenants will receive the opportunity to rent, earn equity and display their work all in the same building, thanks to the local non-profit company Northeast Shores Development Corporation, in a partnership with Cincinnati-based, Cornerstone Corporation for Shared Equity.
This live/work studio is a short walk away from the Waterloo Arts & Entertainment District, short walk from Euclid Beach Metro Park, and a 10 minute drive from downtown Cleveland.
Address: 231 E. 156th Street (The Glencove) and the unit features are:
Newly renovated 1-bedroom apartment
In-suite washer & dryer
Stainless steel refrigerator, range and dishwasher
Fireplace (Non-operable)
Private studio space in the basement
Are you ready to check out this available Live/Work space? Of course you are! To schedule a tour, contact Carly Lovely at 216-481-7660.
Carly Lovely
Resident of neighborhood since 1956. Worked on East 185th street since 1970.
Read More on Community
Volume 9, Issue 12, Posted 10:07 AM, 12.08.2017