Progress at Northeast Shores….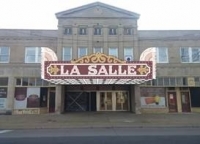 Some of you may have noticed that the entire marquee at the LaSalle was removed. Please do not panic. It is just being refabricated, removing old parts with new parts, and will return to its spot shortly!
Special thanks to Councilman Mike Polensek for finding the project support funding we needed to include LED panel displays on the marquee. With the LED panels we will have the ability to showcase current and upcoming events on the electronic display.
The inside of the LaSalle makeover is also moving quickly and is on track to be finished by the end of 2017, which is absolutely needed so the organization can finalize the tax-credit funding we received.
Because of this big push to complete the LaSalle renovation, Northeast Shores is going to start working on a big opening party that will take place in the spring. In the future we anticipate hosting community meetings at the LaSalle. We are seeking an event coordinator, who very soon will be able to discuss booking community events, arts programming, performing acts, weddings and family reunions beginning in the spring of 2018.
Currently we have storefront spaces available at the LaSalle and will soon be scheduling apartment tour dates for the available units above the LaSalle.
Because we are all very excited about the grand opening of the newly renovated LaSalle Theater, Northeast Shores will be taking a break from the annual Taste of the Neighborhood this year. Instead we ask that you please be on the lookout for upcoming events hosted at the LaSalle that will celebrate the neighborhood and greater community.
We are still doing the annual Santa breakfast on Saturday, December 9, in collaboration with the Salvation Army, at their new facility on Grovewood from 10 to noon, with the help and support of Gus's Diner and VASJ.
Also please note that Northeast Shores will be moving our offices to the Hospice of the Western Reserve on E 185th during the first couple weeks of December. The office will shut-down for the holidays from Monday, December 18- January 2 and re-open at our new location on Wednesday, January 3. But staff will be checking voicemails and emails.
And please plan on attending the annual meeting on January 16th where we will elect new board members and ask the membership to vote on organizational by-law updates. If you are not yet a member of Northeast Shores Development Corporation, we ask that you join before the end of the year and get involved. The organization is only as strong as its membership.
Cindy Barber
Resident of neighborhood since 1956. Worked on East 185th street since 1970.
Read More on Community
Volume 9, Issue 12, Posted 10:07 AM, 12.08.2017