9th Annual Waterloo Alley Cat Project Fundraiser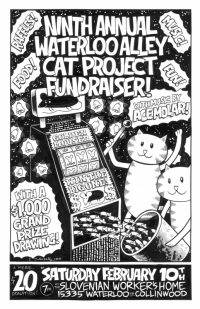 On Saturday, February 10, 2018, The Waterloo Alley Cat Project is holding its 9th ANNUAL FUNDRAISER from 7 to 11 pm at the historic Slovenian Worker's Home located at 15335 Waterloo Road in Cleveland. This year, we will once again hold a $1,000 Grand Prize Raffle and announce the winner during the festivities. We will also have our fabulous basket raffles and new fun activities to help cats. Music will be provided by Ace Molar featuring Todd Meany from Channel 8. Admission is $20 per person. All money raised goes to helping cats. Donations of cat food will be accepted at the door and greatly appreciated!
The Waterloo Alley Cat Project (WACP) is a dedicated group volunteering their time from the heart to care for the abandoned and feral cats that live in the arts and retail district on Waterloo Road. WACP implemented the humane method of trap-neuter/spay-release (TNR) in November 2009 to protect the lives of a large number of unsterilized cats that were multiplying, suffering and roaming the streets in search of food and shelter. To date, we have spayed and neutered over 400 cats, found homes for approximately 25, and are currently managing 3 healthy cat colonies by feeding, providing shelter and continued veterinary care.
The Waterloo Alley Cat Project is an approved 501(c)(3) non-profit all volunteer organization.
Donations can be sent to WATERLOO ALLEY CAT PROJECT, P.O. Box 19246, Cleveland, OH 44119; or via to Paypal to: feralcatproject@hotmail.com.
Deborah Gulyas
Merchant on Waterloo Road: Blue Arrow Records. And, lover of cats.
Read More on Community
Volume 10, Issue 2, Posted 2:06 PM, 02.10.2018