Get Involved! Help Plan the Collinwood Community Potluck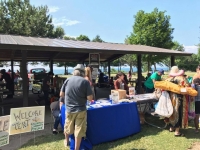 Mark your calendars for Sunday, June 24th and start brainstorming your best summer recipes for the second (annual?!) Collinwood Community Potluck. Better yet – join us on the planning committee.
The Collinwood Community Potluck grew out of Northeast Shores' Quality of Life committee and has evolved thanks to dedicated, caring residents who want to increase the comradery of community in our neighborhood. The intent is to bring neighbors together to meet each other and share a conversation over a meal in the most beautiful of settings - on the shores of Lake Erie!
The free event will take place again at the Euclid Beach Park pavilion from 3-7pm where all are encouraged to bring a dish to share with new and old friends. In 2017, with support from Councilman Polensek we partnered with Coit Road Market, artist Lori Kella, Waterloo Arts, the Cleveland Seed Bank, Cleveland Clinic, Cleveland Public Library, VASJ, GardenWalk and Twelve Literary Arts to pull off an event that many neighborhood restaurants donated to as well. In 2018, we are looking to gain even more partners.
Does the idea of people from across the neighborhood coming together to celebrate community over homemade and restaurant dishes while playing lawn games and swaying to the beat of local musicians excite you? Are you part of a school, business, or group that would like to partner? We are looking to expand our reach to South Collinwood and bring in more youth this year as well.
If you are interested in being on the planning committee, please join us for our next meeting at Chili Peppers (on E.185th Street) at 6pm on Tuesday, February 13th. If you want to participate but cannot attend the meeting, please email Ali Lukacsy-Love @ alukacsy@gmail.com to join the email distribution list.
Allison Lukacsy-Love
Allison is a North Shore Collinwood resident, architect, artist, neighborhood cheerleader and frequent contributor to the Collinwood Observer. She curates "Phone Gallery", founded "Bus Stop Moves", upcycles street and beach trash into art and serves on the Board of Directors of Northeast Shores.
Read More on Community
Volume 10, Issue 2, Posted 2:06 PM, 02.10.2018