Keys To Building a Fluent Reader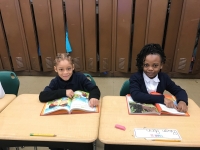 Fluency is defined as the ability to read with speed, accuracy, and proper expression. In order to understand what they read, children must be able to read with fluency whether that is aloud or silent reading. Here are some tips that parents can do at home to build reading fluency.
Support and encourage your child. Realize that he or she is likely frustrated by reading.
Check with your child's teacher to find out how they are progressing in the classroom. Also, ask your child's teacher how their word decoding skills are.
Read aloud with your child as much as you can.
Remind your child to pause between sentences and phrases.
Read your childs favorite book over and over again. Practice becoming a smoother reading and also reading with expression.
Remember your child is never too young to be read to.
Finally, make it fun! Involve the whole family and have your child pick out books they enjoy. This is also great bonding time for the family.
Below are five books that will engage early readers:
I Spy Fly Guy by Tedd Arnold
Wedgieman: A Hero is Born by Charise Mericle Harper
Fancy Nancy and the Delectable Cupcakes by Jane O' Connor
Tales for Very Picky Eaters by Josh Schneider
We Are In A Book by Mo Williams
Katie Coan
Teacher at St. Jerome SCHOOL
Read More on St. Jeromes
Volume 10, Issue 2, Posted 2:06 PM, 02.10.2018