Euclid Police Partners with Moore Counseling & Mediation Services, Inc. in Response to the Opiate Epidemic in Cuyahoga County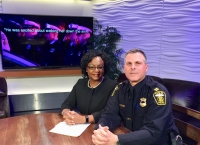 The Euclid Police Department and Moore Counseling & Mediation Services, Inc. (MCMS) announces their new partnership to launch the "Safe Passages" initiative in response to the opiate epidemic in Cuyahoga County. Safe passages is also referred to as The Police Assisted Addiction and Recovery Initiative (PAARI).
Safe passages initiative is a pre-arrest referral program designed to assist individuals experiencing opioid disorders. This initiative provides intervention, assessment, referral and treatment services for individuals presenting at participating law enforcement agencies and seeking assistance for opioid addiction.
The Alcohol, Drug Addiction & Mental Health Services (ADAMHS) Board of Cuyahoga County provided the funding for this initiative and chose MCMS as the referring agency.
An individual can walk into the Euclid police department and request treatment services. Upon referral from the police department, a MCMS counselor will travel to the police station to conduct an on-site clinical assessment within one hour of referral. Depending on the individual's diagnosis, the client will be immediately referred for ongoing treatment services. MCMS counselors will remain engaged with the client throughout the treatment process to ensure the client is provided with all the necessary resources. This initiative is restricted to individuals diagnosed with an opioid disorder.
All Euclid police officers received thorough training by MCMS counselors.
John Carroll University students and faculty will develop a data collection instrument to collect client-level data including demographic information, ongoing treatment outcome data. Client-level data will be collected at initial point of contact, admission to treatment, continued stay and discharge. The data will later be shared with the Substance Abuse and Mental Health Services Administration (SAMHSA) to measure the outcome of the program.
MCMS is also the safe passages referring agency for the Highland Heights, Lyndhurst, Richmond Heights, Mayfield Heights and Mayfield Village police departments in the Hillcrest area.
The Euclid Police Department and MCMS will launch the safe passages initiative on March 5, 2018.
Call 216-508-6633 to learn more about the initiative.
Read More on Community
Volume 10, Issue 3, Posted 11:04 AM, 03.10.2018