Jeremy A Peak Promoted to Warrant Officer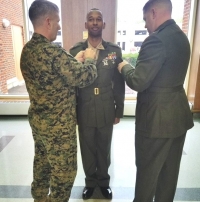 On February 1, 2018, local resident and Son of Caroline J Peak and the late Gregory Peak, Jeremy A Peak was promoted to Warrant Officer for the United States Marines at Quantico, Virginia. Jeremy is a 2000 graduate of Collinwood High School and began his military career in the U. S. Marine Corp immediately after. He is scheduled to graduate from Officer's school in May of this year.
Caroline J. Peak
Resident of neighborhood since 1956. Worked on East 185th street since 1970.
Read More on Community
Volume 10, Issue 3, Posted 11:04 AM, 03.10.2018