You're invited—2018 Community Builders Conference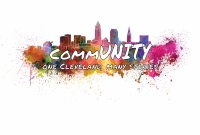 Registration is now open for Cleveland's Community Builders Conference—One Cleveland, Many Stories which will be held Saturday, March 24th.
This free event is a chance for Cleveland residents to learn and share about how to build healthy block clubs and other grassroots groups, and make a difference in their neighborhoods. It's presented by the Cleveland Community Relations Board and Cleveland Neighborhood Progress, and is hosted by Cleveland Metropolitan School District at their East Professional Center, a conference center in the former East High at 79th and Superior.
Hundreds of neighborhood leaders and activists from across the city are expected to come together for a powerful morning of peer-to-peer learning, story-sharing, workshops and networking. Get the inside story on how to navigate some of the complex systems that shape our community, and the fundamentals of bringing people together to build and sustain a block club or other collaborative effort.
Planned sessions include organizing with schools, navigating the CPD, how to welcome and be inclusive, and working with and through community development corporations. There will also be opportunities to engage in dialogue about best practices and hear what's working in other neighborhood and how these initiatives have come together and taken off.
At last year's conference, which was not well-publicized, the opening plenary was a short but inspiring lecture by a Case Western Reserve professor about the power of mapping our assets. Don't get to chapped by that jargon—mapping assets is where a group of people look at a geographic area and map out all the institutions, associations, and individuals who do good in one way or another for the community. That might seem basic or trivial, but it's the exact model that was used to power the start-up of the Scoop on Summer in 2007, and the Collinwood Observer in 2009. Mapping assets can be fundamental to building good things in a neighborhood, especially in the face of relentless messages focusing on the negative, and what we lack.
This is your chance to check out the great things happening in other neighborhoods, maybe learn from some of their mistakes, recharge, get some perspective, and get inspired.
Space is limited, register today by visiting www.bit.ly/CBCcleveland2018.
What to expect...
Networking, resource fair and continental breakfast start at 8 AM
Plenary session
Learning sessions
Best practice sharing
Lunch and caucus with district commanders
Post-event networking
Read More on Community
Volume 10, Issue 3, Posted 11:04 AM, 03.10.2018