Aanand Mehta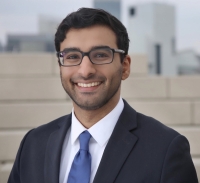 My name is Aanand Mehta and I am running to represent District 10. I was born in this District. I live in this District. I work in this District. I am confident that I am the most qualified candidate for this position because of my professional experience, my personal background and my community service.
My experience of 5+ years as a transactional attorney at Jones Day has prepared me to be an effective legislator. The position that I am running for is a lawmaking position and I am the only practicing lawyer in this race. I have been trained to understand the law and to interpret the law. Every day, I draft complex legal documents, which is an essential role of a legislator. Understanding the intricacies of the law will strengthen any legislation I hope to pass. Furthermore, urban interests are at a severe disadvantage in Columbus; District 10 must have a skilled negotiator to fight on its behalf. I negotiate on behalf of my clients against some of the largest financial institutions on a daily basis and I fully intend to employ those skills to get the most effective laws and increased funding for our region.
Additionally, my personal background uniquely qualifies me to represent District 10. District 10 is the most diverse district in Ohio, as it includes Glenville, Collinwood, Bratenahl, Downtown, and Clark-Fulton, amongst other neighborhoods. While I am an attorney integrated into Cleveland's business community, as the son of Indian immigrants, I understand the importance of strong neighborhoods. I believe that I can bridge the "two Clevelands" to present a united platform in the Statehouse. For example, my platform includes offering tax credits to businesses that train underemployed, unemployed and disabled members of our community, seniors and veterans for specific vacant positions.
Moreover, I have a track record of service to the community. At the University of Pennsylvania Law School, I earned distinction for my pro bono service, which largely comprised of filing tax returns for lower income families. I have also co-founded the Brain Gain Cleveland Project, a non-profit aimed at retaining talented Clevelanders in the city. Through Jones Day, I participated in Clemency Project 2014 and represented an incarcerated client pro bono to reduce his sentence. Ultimately, for the reasons above, I am the best choice to represent District 10.
Aanand Mehta
Resident of neighborhood since 1956. Worked on East 185th street since 1970.
Read More on Community
Volume 10, Issue 4, Posted 3:24 PM, 04.04.2018