Pianist Needed!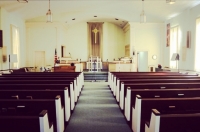 New Praise Ministries is seeking a pianist.
Required: Available for choir rehearsal and Sunday morning services.
Compensation is based upon experience.
Please call Antoinette Willis 216-731-8979 or email npminc17@gmail.com to schedule audition/interview.
New Praise Ministries is located at 18100 Canterbury Rd, Cleveland, Ohio. 44119. We are a non-demoninational religious organization. Pastor, Roscoe J. Heath
New Praise Ministries
We have joined the Collinwood Beachland area as of February 2017! New Praise Ministries began in the living room of Senior Pastor and Founder, Roscoe J. Heath and Lady Tina M. Heath in January, 2004. We started with about 20 members and immediately set about to pursue the commission of Jesus Christ according to Matthew 28:16 and the vision the Lord had given to Pastor Heath. Each member had the opportunity to submit possible names for the ministry. New Praise Ministries was the result of combined suggestions from Pastor Heath and Mother Lorraine Smith. In July of 2004, Pastor Heath suggested a radio broadcast on AM 1490 - WJMO. Sis Irina Thomas, building on our desire to promote love, family, and truth suggested the theme, "Transformed by Truth", resulting in "Come and have your life transformed by truth". New Praise Ministries' membership dwindled to an average of 3-4 people in attendance. Pastor Heath was disheartened. Lady Heath encouraged the ministry to continue to move forward. New Praise Ministries' first new member was Sis Amanda Blade. After moving to the Euclid Shore Cultural Centre 2291 East 222nd Street in Euclid, Ohio, the Lord began to send new souls seeking truth, love and family. Wednesday night Interactive Bible Study (7pm) averaged 40-45 attendees; Friday Night's Praise service (7pm) about 35-40 attendees; and Sunday morning worship service (11am) nearly 80-100 attendees. God has truly blessed our faithfulness. With strong leadership amongst our ministers, deacons, and dedicated members, New Praise Ministries continue to promote LOVE -- without judgment; FAMILY – which constitutes relationship; and TRUTH as Pastor Heath preaches the pure, unadulterated Word of God. Although membership has changed, our services remain the same with a few additions! Sunday Prayer – 9AM Discovering God's Word – 10AM Children's Sunday School – 10 AM Morning Worship – 11AM Tuesday Walk Through the Bible – 7PM Wednesday Interactive Bible Study – 7PM Thursday Voices Rehearsal – 7PM Outreach: Judson Park Nursing Home 1st Saturday – 10:30AM Gateway Nursing Home 2nd Sunday – 2:30PM Women in Motion 1st Sunday – 1:30PM Survivors (Domestic Violence Ministry) 3rd Sunday – 1:30PM Theology Class 4th Sunday – 1:30PM ≈ Come and have your life transformed by truth! Mission The mission of our church is to fulfill the great commission given by our Lord and Savior Jesus Christ as stated in The Gospel According to Matthew. "Go therefore and make disciples of all nations, baptizing them in the name of the Father and of the son and of the Holy Spirit, and teaching them to observe all things that I have commanded you:…" - Matthew 28:19-20 We will evangelize communities through the preaching of the gospel and disciple them through accurate biblical teaching. We equip men and women of all ages to earnestly contend for the faith and to be ready to give a defense to everyone who asks why we have hope in the gospel of Christ. Vision Our vision is to build and maintain a multicultural-multiracial Christian ministry that transforms lives into the image of Christ. Our vision is to plant six "Cities of Refuge"; campuses that comprise of the following: Life skills training for the economically oppressed which include GED classes, resume writing, job interviewing techniques, computer literacy skills and employment assistance. A hunger and clothing center, 24 hour day care center, support program for children of incarcerated parents, Survivors program-victims of domestic violence, transitional housing, worship center and a school of biblical studies.
Read More on
Volume 10, Issue 4, Posted 3:25 PM, 04.04.2018