Terrence Upchurch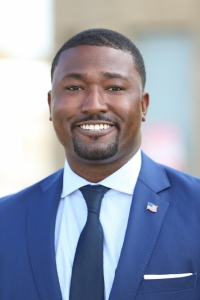 My name is Terrence Upchurch and I am a candidate for Ohio House District 10. I am a lifelong Democrat, who was born and raised in the greater Collinwood and Glenville communities. I am a proud graduate of St. Peter Chanel High School. I earned a Bachelor's Degree in Political Science from Cleveland State University and I am pursuing a Master's of Public Administration Degree from Villanova University. Most recently, I served as a special assistant to Cleveland City Council and previously worked alongside Cuyahoga County Councilman Anthony Hairston. From these experiences, I have learned and developed a keen understanding of the nuances of government which I plan to take to the State House.
I understand the importance of having partnerships at the State House and will use this office as a platform to fight for working class families. In District 10 and all across Ohio, we have felt the impact of a of a state legislature that continues to cut resources. In Cuyahoga County alone, over 100 million dollars has been stripped from our local governments at the hands of the state, making it more difficult for municipalities to meet the basic needs of the people and provide simple services such as; Police and Fire.
I look forward to being a true and trusted ally in the State House and fighting for resources that District 10 so desperately needs. I am the endorsed Democrat in this race and have received support from Congresswoman Marcia Fudge. I have also received endorsements from the following members of Cleveland City Council: Kerry McCormack, Blaine A. Griffin, and Anthony T. Hairston
Resident of neighborhood since 1956. Worked on East 185th street since 1970.
Read More on Community
Volume 10, Issue 4, Posted 3:24 PM, 04.04.2018