Cheryl L. Stephens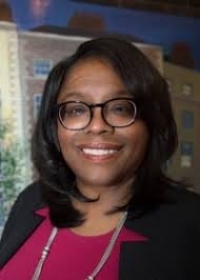 Dear Friends and Neighbors:
I fell in love with Greater Cleveland as an adult. As a military brat we moved every two years, and sometimes more. By the time I was 18 I had lived in 11 different communities. Of all the places I have had the privilege of living, Northeast Ohio offers access to the best parts of America: fresh water, rolling hills, metro parks, affordable housing, clean air, and most importantly wonderful people. To sustain our region, we must have strong economic development. Strong economic development leads to: job creation, a diverse development of businesses, increased revenue for communities, and overall improves the quality of life for us all. I am a 25 year resident of County Council District 10 (Cleveland Heights). I have worked in all parts of the district from Bratenahl to University Heights through my development activities. I am committed to and have the track record of driving economic development and housing projects.
My experience in economic development includes: Director of Planning and Development for the city of Cleveland Heights, the Director of Development for Cuyahoga County, a Director of the Mid West division of the National Development Council, the Director of Acquisition Disposition And Development at the Cuyahoga Land Bank and finally, an elected member of Cleveland Heights City council, eventually serving a term as mayor. I have worked to help create public budgets with surpluses (currently over $4 million in Cleveland Heights), successfully completed projects totaling $100 million, and invested over $4 million in demolition projects in East Cleveland. Two projects I am the proudest of: the Lee Harvard Community Service Center's expansion and the Coventry Parking Garage.
I am running because it is my desire to help our county government work hard for us in a way that will help us be stronger financially, have a better quality of life and be safer in our neighborhoods. To do that I promise to have a focus on the following priorities:
Community/Economic Development and Housing
Government Finance (support a focus on investing in our priorities, managing available funds well and obtaining grants/funds from other sources)
Protecting services for our families, children, Veterans and Senior Citizens
Safety (insure adequate safety services for our communities and prioritize finding ways reduce gun violence)
Remain accessible to constituents
On May 8th, 2018 vote for Cheryl Stephens for Cuyahoga County Council District 10. A vote for Cheryl is a vote to have a strong voice on County government driving economic development and housing as a priority. To learn more about me, visit my website Teamcheryl.org or via my Facebook page @TeamCherylStephens. I am a life-long Democrat and endorsed by the Cuyahoga Democratic Women's Caucus and the Cleveland Stonewall Democrats, former State Representative Barbara Boyd, fellow city leaders and a number of District 10 residents.
Cheryl L. Stephens

Cheryl L. Stephens
I am a 22-year old resident of the Forest Hills neighborhood in Cleveland Heights. I am the former Mayor of Cleveland Heights and currently a member of city council. Above all, I am passionate about Cuyahoga County and have a sweet spot for Economic Development and Finances. To date, I have worked on more than $100 Million Dollars in Economic Development projects throughout Cuyahoga County.
Read More on Community
Volume 10, Issue 5, Posted 4:56 PM, 05.10.2018