'Give Box CLE' hosts Community GIVE Day at Waterloo Arts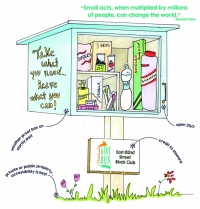 In 2016 an Arkansas woman saw a need in her community and recognized her own power to help address it. This woman began the Little Free Pantry project, which has spread to Akron and Berea, and thanks to an awesome collaboration, now Cleveland through 'Give Box CLE'.
Hunger is pervasive in many Cleveland neighborhoods, including Collinwood. Despite being in the footprint of the Greater Cleveland Food Bank, the Salvation Army and multiple faith-based food pantries, one in five people in Northeast Ohio is food insecure, meaning they do not know where their next meal comes from.
Little Free Pantries including 'Give Box CLE' won't fix this staggering statistic, but together we can positively impact the quality of life for our neighbors. Just like Little Free Libraries - which have popped up in Collinwood throughout the years - Give Box CLE is a sturdy wood box outfitted with shelves and a plexiglass door that sits on a post in the lawns of generous stewards. Neighbors can come and go from these boxes anonymously - giving what they can and taking what they need without the barriers that sometimes come with food assistance programs.
In addition to non-perishable goods, Give Boxes contain personal care items, toiletries, information about government supported aide and notes of positivity and gratitude.
How will these Give Boxes be filled with all of this essential stuff? That's where YOU come in!
On Saturday, July 7th, 2018 from 11am to 1pm at Waterloo Arts (15605 Waterloo Road - or the lawn across E.156th Street in good weather), members of the community are encouraged to drop off unused, unexpired supplies at the first ever GIVE day. From chapstick to toothpaste, dried pasta to canned beans, your contribution can make a difference.
And while you are donating and stopping by the Waterloo Arts District, why not get a little creative and grab a paint brush and join volunteers as we paint the hand-built Little Free Pantries before they are disseminated to the stewards? Brushes and paint will be provided.
The boxes will be built in the month of June by Youth Opportunity Unlimited (YOU) employees through the new local non-profit 'Kids of the 216'. These same teenage employees will install the boxes throughout Cleveland later in the summer. If you are interested to host a box on your property, please contact 'Give Box CLE' founder Allison at alukacsy@gmail.com
At GIVE day, anyone can donate items, paint a box (we will have stencils for non-artists!) and jot down a few positive messages for inside the boxes. And please do come to meet the teenagers who are making an impact in their own communities through this collaboration with YOU and 'Kids of the 216'.
To learn more about this project, check out: https://www.facebook.com/giveboxcle/
Allison Lukacsy-Love
Allison is a North Shore Collinwood resident, architect, artist, neighborhood cheerleader and frequent contributor to the Collinwood Observer. She curates "Phone Gallery", founded "Bus Stop Moves", upcycles street and beach trash into art and serves on the Board of Directors of Northeast Shores.
Read More on Community
Volume 10, Issue 6, Posted 11:14 AM, 06.07.2018