Letís eat!!! Join your neighbors at the Collinwood Community Potluck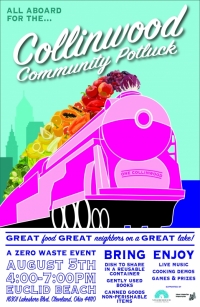 Please join us on Sunday, August 5th from 4-7pm at the Euclid Beach Park pavilion for the second (and best ever) Collinwood Community Potluck!
Thanks to a grant from Neighborhood Connections and a thoughtful group of community stakeholders, the popular Potluck is back.
Celebrate great food with great people on a Great Lake. People from across the neighborhood are invited to prepare a dish using ingredients from their garden, a family recipe, or a favorite summertime delight. Swing by the pavilion at Euclid Beach Park anytime between 4 to 7pm and dine with fellow neighbors while enjoying cooking demonstrations from Coit Road Market, yard games and the local, live music of Phatbone Productions.
This is a Zero Waste event, meaning all flatware, plates, cups and more will be composted by the local company 'Rust Belt Riders'. Information to help event attendees reduce waste will be provided by Sustainable Cleveland. Other community organizations with a health, nutrition and environment focus will provide giveaways.
Bring an appetizer, salad, entrée or dessert and we will have place cards available for you to indicate if it's vegan, gluten-free, etc. Can't bring a dish to share? No worries, bring yourself and be prepared to feast – no one will be turned away.
Ways to participate:
1) Bring a food dish (in a reusable container with your name clearly marked, please)!
2) Bring canned goods or non-perishable items which will be donated to the Greater Cleveland Food Bank as well as neighborhood food pantries and Give Box Cleveland Collinwood locations.
3) Bring gently used books to help neighbors build their home libraries as we head into a new school year.
4) Volunteer to set-up, clean-up or work the event - especially if you are a student in need of community service hours.
This event is supported by a grant through Neighborhood Connections and in-kind support from our partners at Villa Angela – St. Joseph High School, Cleveland Public Library, Cleveland Metroparks, Waterloo Arts, Collinwood Nottingham Development Corporation and many restaurant, community organizations and individual residents.
Please RSVP to the Facebook event: https://tinyurl.com/y9nf9ggr
Allison Lukacsy-Love
Allison is a North Shore Collinwood resident, architect, artist, neighborhood cheerleader and frequent contributor to the Collinwood Observer. She curates "Phone Gallery", founded "Bus Stop Moves", upcycles street and beach trash into art and serves on the Board of Directors of Northeast Shores.
Read More on Community
Volume 10, Issue 7, Posted 3:11 PM, 07.05.2018