Telling the LaSalle's Story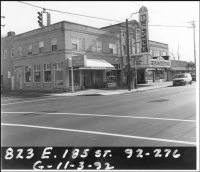 If you've lived in Collinwood for any length of time, you'll know our LaSalle Theater. Can't miss the many changes happening this past several years - including that now relit marquee - as renovations have been underway to bring the LaSalle back to life.
And, if you grew up in Collinwood - my readers of a certain age, especially - you'll have many fond memories of this neighborhood theater of ours.
Hopefully you took advantage of the chance to see the current work on the theater, earlier this month, at the E 185th Walk & Roll event. Your Collinwood Nottingham Historical Society (CNHS) was there, talking to our fellow Collinwooders about the LaSalle "back in the day". The movies seen there, walking (or taking the bus) to get there, who we went with . . . what being there was like. So many grand times!
Which got us thinking: here's another piece of our neighborhood's history, that deserves to be remembered . . .
So, Collinwood: here's the idea. CNHS is calling all Collinwooders to help us capture the history of this wonderful part of so many of our childhood memories.
How? Just get in touch with us (contact info below) with your stories, photos, souvenirs etc etc, with the idea of putting together a notebook to preserve these precious memories. (If there's enough interest, we could set up a time & place to share memories (& the fun) of the LaSalle, as well as scan any photos etc you might have.)
Look forward to hearing from you!
Elva Brodnick
Collinwood Nottingham Historical Society
216 738 0626
Elva Brodnick
Moved to Collinwood in 2012 - and loving it! - but have been active in the neighborhood for many years before that.
Always interested in promoting Collinwood! Euclid Beach Park, history in general (especially as part of the Collinwood Nottingham Historical Society.) A regular contributor to the Collinwood Observer, as well as very much involved in things in the neighborhood.
Read More on
Volume 10, Issue 8, Posted 3:11 PM, 07.05.2018