Clean Water Fest Attracts Thousands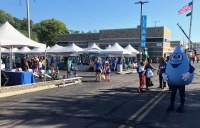 Guests from all over Ohio showed up on a beautiful fall afternoon to learn about where their water goes and what they can do to keep our Great Lake great. The Northeast Ohio Regional Sewer District open house was a celebration of community and all things water is they opened the doors of their treatment plant and laboratory facilities for a day of education and entertainment.
The free event had more than 60 exhibitor booths including our neighborhoods own Linda Zolten Wood with the Collinwood painted rain barrel project. Congratulations to NEORSD for enhancing the quality of life in our neighborhood by protecting our water resources.
Resident of neighborhood since 1956. Worked on East 185th street since 1970.
Read More on Green Collinwood
Volume 10, Issue 10, Posted 8:10 AM, 10.14.2018