Collinwood upcoming producer KNG ARI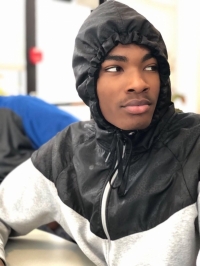 Interview with KNG ARI
Q What Exactly do you do ?
A I produce , and write Music
Q How long have you been producing , and writing music
A For 1 year now
Q What made you want to get into producing and writing music
A Well! What made me want to start producing was after I graduated the 8th grade , then started attending school at Ginn Academy High school , and at Ginn Academy they didn't have a school band or anything so I started making beats for people
Q There's a lot of people doing this in Cleveland, older, younger, so with yourself what do you think makes yourself different from the rest in cleveland ? like do you feel you have your own unique style ?, what is it that stands you apart?
A Well the key thing that sets me apart from the others is my outgoing personality towards people , and making them feel comfortable with me even if we' ve been talking for a short period of time. Like for example me reaching out to a new up coming rapper, and having a full conversation with them about music , I just know how to talk to people!!
Q With you in the music business, did you have any influences? kind of like a person you looked up to in the same field?
A yes a couple my family , Metro boomin who is a popular successful music producers world wide , and GOD
Q So being a young adult making music and following your passion what kind of obstacles do you or have you ran into? Dealing with your own age peer group , do you feel you they look different at you cause your not doing what they're doing?
A Dealing with peers is kind of hard at times , because a lot of them feel sine im doing something different , I trying to be better then them , or think im better , but I don't let it bother me I know I gotta keep going after my passion
Q How do you get yourself noticed by others ?
A Just by hitting people up , and getting them to support me
Q what do you think about the whole social media thing ? Do you think social media is the best way to get yourself noticed in the music business
A Social media is probably at the top of the list when it comes to connecting with people, and getting fans, but if there wasn't social media it would be a little bit easier
you can follow me on instagram
Iamthegreatdame
twitter
thegreatdame
youtube
thegreatdame
you can follow KNG ARI
instagram
KNG ARI
Read More on
Volume 11, Issue 3, Posted 2:52 PM, 03.10.2019