Review on G230 Gaming Headset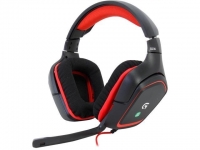 Recently I purchased the gaming headset called G230 by Logitech from Microcenter. This headset ran me $40 and for $40 I'll give a b- grade. The reason I picked this letter grade? I'm going to get to the cons 1st. When I purchased the G230 headset I was unaware that the headset didn't come with a controller adapter end that plugs in the controller to the headset. Fortunately I had an extra adapter so I was able to use them right away, if I didn't have this adapter I would have to buy it separately for $10 from Microcenter.
Now that's the end of the cons, to the pros. Now the G230 has excellent sound to it. I have played with a lot of headsets and the sound on these is incredible. The sound is clear and powerful, the mic is clear and crisp when streaming. I didn't hear any feedback, no popping or static noises. This is an excellent price for these. I definitely recommend this headset for beginners and professionals.
Read More on
Volume 11, Issue 4, Posted 2:55 PM, 03.30.2019