Interested in Gardening? Want to Help a Historic Garden Project?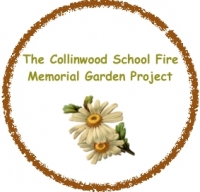 It's time to get serious, about the Memorial Garden, at Memorial School located at 420 East 152 Street. Therefore, we are officially launching our Collinwood School Fire Memorial Garden Project 2019. This is a new project for our Garden – a new hope – one that'll finally be able to truly make our Garden shine; as it deserves.
Ms. Maci Nelson, from Kent State University's Landscape Architecture Program, after hearing the story of our Collinwood School Fire, approached us last fall about redesigning the Memorial Garden as a class project. The rest is history. We took her up on the offer to see what she would come up with – and she's come up with some great ideas that we think would really make this project special. We're delighted to finally be able to accomplish something with our Garden, and thrilled that it's happening at last!
So to get started, we're scheduling a community clean-up and clean out of the Garden on Saturday, May 18beginning at 9:00 AM. We'll be cleaning up the Garden, moving some greenery around to reposition it and cleaning out the hedges in front along the walkway, as well as hopefully planting annuals. Maci and her team from the Kent State Student Chapter of the American Society of Landscape Architects will be working with us, and coaching us on how to do all this. Even more exciting, we've been invited to be a part of the upcoming Garden Walk Cleveland 2019 on Sunday, July 14th. We need to have our little garden looking spiffy.
We are in need of donations of flowers (ie. annuals, bulbs - anything flowering) as well, to make this clean up successful. Anyone who is interested in donating flowers can contact Elva Brodnick at carrollsell@gmail.com or Mary Louise Daley at mlajesek@aol.com. If interested, willing and able to join us in person on Saturday, May 18 at 9:00 AM at the Memorial Garden (in front of Memorial School on E 152nd.), we would love to have your help. Bring your own tools, gloves etc for yourself as well as water.
Look forward to seeing you!
Thanks so much!
Elva Brodnick
Chair // Collinwood School Fire Memorial Garden Project.
Elva Brodnick
Moved to Collinwood in 2012 - and loving it! - but have been active in the neighborhood for many years before that.
Always interested in promoting Collinwood! Euclid Beach Park, history in general (especially as part of the Collinwood Nottingham Historical Society.) A regular contributor to the Collinwood Observer, as well as very much involved in things in the neighborhood. Currently Chair of the E 185th Neighborhood Association.
Read More on
Volume 11, Issue 5, Posted 10:48 AM, 05.05.2019