The Big Clean 2019 was another BIG Success; over 350 total bags of trash collected by volunteers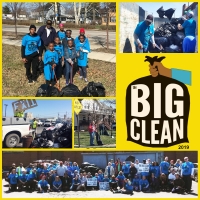 Hundreds of Collinwood and Euclid residents took to the streets, parks, tree lawns, and highway ramps on Saturday, April 6th for 'The Big Clean 2019' - the third annual cleanup competition between the two communities.
Unfortunately, Euclid was once again victorious in the bag count, although by a much smaller margin than in previous years. Collinwood landed 164 bags and Euclid 189, totaling over 350 bags of trash collected in just a few hours! Remember, both communities are big winners and don't worry Collinwood, we'll always have a chance for redemption at the Big Clean 2020!
'The Big Clean 2019' was a partnership of the City of Euclid, Keep Euclid Beautiful and the Euclid Beach Adopt-A-Beach Team with support from Greater Collinwood Development Corporation and Cleveland Councilperson Michael Polensek.
This year's event marked the first "Zero Waste" event in partnership with Rust Belt Riders, who educated VASJ students and event attendees about reducing waste and composting. We produced just one large bag of trash during the post cleanup celebration event by using compostable plates, cups and other supplies.
Special thanks to Villa Angela-St. Joseph High School (VASJ) for hosting the event once again. Big thanks also to Court Community Service and the Euclid Service Department for collecting trash bags throughout both communities.
Thank you to the many determined neighbors, church congregations, and business owners of Collinwood and Euclid for supporting this event and coming out in force, and especially to our sponsors who provided monetary and in-kind donations to support the marketing, event costs, and raffle prizes for participants.
Our sponsors this year included: the Ohio EPA, Jakprints, radio station WINT 1330AM/101.5FM, Ganley Subaru Wickliffe, The Alliance for the Great Lakes, Lakeshore Coffee House and many others.
For more pics and videos of this year's event, search #thebigclean on Facebook and Instagram. If you attended this year's cleanup and took any photos/videos, hashtag it with #thebigclean and/or by sending photographs to keepeuclidbeautiful@cityofeuclid.com
Can't wait until Big Clean 2020 to get in on all the cleanup action? You don't have to! Check out plogging (jogging + picking up trash), the newest cleanup craze with Cleveland Plogs! Plogging cleanups take place the last Wednesday of every month at 6pm through October. Visit facebook.com/cleplogs to see where we're headed next in the neighborhood. On Wednesday May 29th, Cleveland Plogs will meet outside Five Points Community Center (813 E 152nd St, Cleveland, OH 44110) at 6pm. #cleplogs

If you and your neighbors want to do your own cleanup or plogging, let us know so we can hook you up with gloves, bags and more! For more information or questions about cleanups, contact Stephen Love at adopt.euclidbeach@gmail.com or call 216-571-0685.

Stephen Love
Stephen Love is a Lake Erie fanatic from Cleveland, OH. In his day job he works for the Cuyahoga Land Bank and in every other waking moment is the founder and coordinator of Euclid Beach Adopt-a-Beach Team and Euclid Beach Blast! He started Euclid Beach Blast out of a desire to explore the connections between environmental stewardship, art, public spaces, music, and community.
Read More on Green Collinwood
Volume 11, Issue 5, Posted 10:48 AM, 05.05.2019