Connect with Cleveland's Future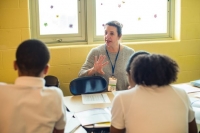 The True2U Mentoring Program serves all 8th graders in the Cleveland Metropolitan School District once a month on a Thursday morning. Volunteer mentors work in small groups to guide students in accepting and celebrating who they are so that they can be true to themselves now and in the future. True2U is currently looking for mentors who are passionate about developing Cleveland's future leaders. As a mentor you can give back to Cleveland Metropolitan School District through in-school mentoring, you can connect with other passionate volunteers, and can build upon your interpersonal and professional skills. True2U is looking for community members to mentor in the following Collinwood schools - East Clark, Euclid Park, Hannah Gibbons, Iowa-Maple, Kenneth W. Clement Boys' Leadership Academy, Memorial, and Oliver H. Perry. If you or someone you know want to learn more and complete an application, visit true2umentor.org. If you still have questions call Molly, Khalid, Lindsay, or Tiara at (21) 812-8700 or send an email to true2u@neighborhoodleadership.org.
True2U Mentoring Program
True2U is a volunteer mentoring program that helps Cleveland Metropolitan School District eighth graders explore their true selves and prepare to make the most of high school as the first step on the path to college and career readiness.
Read More on Community
Volume 11, Issue 8, Posted 8:45 AM, 07.30.2019