Tris Speaker Statue Overdue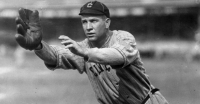 Since this year's World Series is right around the corner, it is a good time to remember the first time Cleveland earned the right to play in the Fall Classic.
The happiest, most memorable and most historic Tuesday that Cleveland ever enjoyed was Tuesday October 12. 1920, ninety nine years ago.
First, it was a beautiful fall day with a high temperature of 72 and a low of 59.
Second, it was Columbus Day, celebrating the birthday of the Italian explorer who arrived in the Bahamas on behalf of Spanish royalty to find millions of people already living in this hemisphere.
Third, and most important, on that afternoon at League Park located between Linwood and Lexington on the east side of East 66th Street, the Cleveland Indians won their first and only world series championship at home by defeating the Brooklyn Dodgers 3-0 before 27,000 spectators. I like to imagine that some Euclid residents took the Interurban train down the Boulevard or Euclid Avenue to be there that day.
Ninety nine years is a long time. It is overdue that the hero of that team, player-manager and center fielder Tris Speaker (1888-1958), be honored with a statue of his own at the site of his greatest triumph, League Park. From a chronological, artistic and statistical perspective, Speaker deserves a statue. He played before teams put numbers on the players' backs so he never even had his number retired.
There is no need to bury the other Cleveland athletes who have already been recognized with statues-Boudreau, Doby, Feller, Thome, Robinson, Jim Brown and Otto Graham, but it is long past time to praise and commemorate the first Cleveland sports hero. In 1920, Tris Speaker was a 32-year old Texan in the prime of a long career that led him to become one of the first inductees to baseball's Hall of Fame in 1937. He batted .388 in that championship season, 105 points higher than the average American League batter. No player has ever hit more doubles in the majors; no outfielder has ever had more assists. His lifetime batting average was .345, higher than the great Ted Williams. Speaker averaged .354 during his eleven seasons in Cleveland and has the fifth most base hits in baseball history.
In 1920, he scored 137 runs, hit fifty doubles and even sacrificed 20 times from his spot in the middle of the batting order. Amazingly, Speaker only struck out 13 times in 674 plate appearances during that glorious season. Today's game features on average almost twenty strikeouts every game.
1920 witnessed the emergence of Babe Ruth in New York, just beginning his mythical career, hitting 54 homeruns. The entire Indians team hit only 35 long balls. Yet, Cleveland scored more runs than any other team in the American League, 854 in 154 games, or 5.5 per game. It proves that scoring runs and winning games does not have to depend on hitting homeruns.
As player-manager, Speaker led the team on the field and off, sparking the offense and anchoring the defense in much the same was that shortstop Lou Boudreau did in his stellar MVP season of 1948. The American League featured a tight three team race involving Cleveland, the Yankees and the Chicago White Sox. The Indians tragically lost a key part of their team on August 16, 1920 when nine-year veteran shortstop Ray Chapman died after being hit in the head by a pitch in a game in New York. The team lost seven of its next nine games to fall behind. Speaker rallied the team which went 25-9 over the last weeks of the season, beating the White Sox by two games and the Yankees by three.
The World Series against the Brooklyn Dodgers was a best-of-nine affair and it featured all sorts of historic events including the first grand slam, the first homerun hit by a pitcher, three complete game wins by Cleveland's Stan Coveleski and Wamby's unassisted triple play. Speaker's triple in the final game was a spark in the 3-0 win which ended with a (6-4) force out at second base. Speaker then raced from center field to a box seat by the dugout where the hero hugged a special fan saying "we did it, Mother."
The nearly 800,000 Cleveland residents and slightly more than 3000 Euclid residents celebrated that first championship with a huge rally at Wade Park, near today's University Circle. League Park is ten miles from Euclid City Hall; it has been beautifully renovated and rebuilt to the original dimensions. The crowning attraction there should be a life-size statue of "The Grey Eagle", and it should be in place by October 12, 2020, the one hundredth anniversary of the one and only time that Cleveland's baseball team won the world title in Cleveland!
Read More on Community
Volume 11, Issue 9, Posted 5:20 PM, 09.08.2019