Share Your LaSalle Memories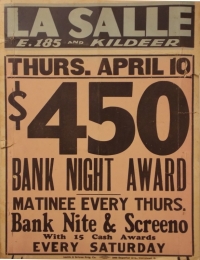 To the community - near, far, from the past, and the present, we need your memories!
As the LaSalle Theatre is now open for rentals and actively booking events, we are looking to remember how we came to be. It's important to look ahead and work towards a sustainable future for the LaSalle, but is also important to remember where we came from - where it all started.
If you have a special memory, or even better - a photo, of the LaSalle Theatre before it underwent renovations, we would love if you shared it with us. Please send a short recap of your memory, scanned photos, or other memorabilia to LaSalleCLE+memories@gmail.com. If you'd prefer to provide hard copies of photos and have us scan them, you may bring them to the LaSalle Theatre Leasing Office - 821 East 185th St. (in between the LaSalle and Humphries) Tuesdays-Thursdays from 10am-2pm.
Photos and memories will be shared on our website, social media, and also on display during community events. We hope to share in your memories soon!
Also, you're invited! To the next LaSalle Theatre Open House on Saturday, October 19th from 10am-2pm. Come visit the renovated LaSalle Theatre a
nd learn more about rental opportunities.
If you are interested in renting the LaSalle, please contact us to learn more today - 216-860-0473 | @LaSalleTheatreCLE | http://www.lasallecle.com/.
Read More on
Volume 11, Issue 10, Posted 10:23 AM, 10.06.2019