SJN: A Great Place For a Quality, Christ-Centered Education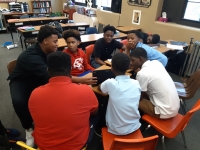 St. John Nottingham has been offering a quality, Christ-centered education since 1892. Founded as a literal one-room schoolhouse, with the Pastor as Principal, Teacher, Chaplain, and Janitor, SJN has continued to be the most stable private Christian school on the east side of Cleveland for generations.

What can SJN offer you? Small class sizes (an average student to teacher ration of 15 to 1), a dedicated, diverse staff with a solid mix of seasoned veterans and young go-getters (with a combined total of almost 200 years of experience between them), daily religious instruction, highly-involved pastoral leadership, competitive sports teams, high academic rigor (including classes not mormally found in elementary schools such as American Sign Language, Speech, High School Prep, Classics, and others) accredited to standards higher than required by the state of Ohio, varied teaching methodolgy, a departmentalized middle school with Science, Math, English, and Social Studies specialists, a 95% overall pass rate for the Third Grade Reading Guarantee, high behavioral standards, and a unique and innovative system of both student discipline and positive recognition of student achievement and character.

And all of that at potentially very little cost to the family! SJN believes in removing as many barriers to getting a Christ-centered education as possible, and in pursuit of that goal, accepts both Ed Choice and the Cleveland Scholarship (Voucher) program grants as payment in full for tuition. SJN church pays the registration fees for all students in good academic standing, and the dress code is easily managed with very affordable options.
Why not call today to schedule an interview with Principal Peck to explore what SJN has to offer, this year or for next? Classes are filling fast, so act now to avoid ending up on the waiting list!
David Peck
Principal of St. John Nottingham Lutheran School
Read More on
Volume 11, Issue 12, Posted 6:21 PM, 12.02.2019